The 3 new Peckham bars you need to check out right now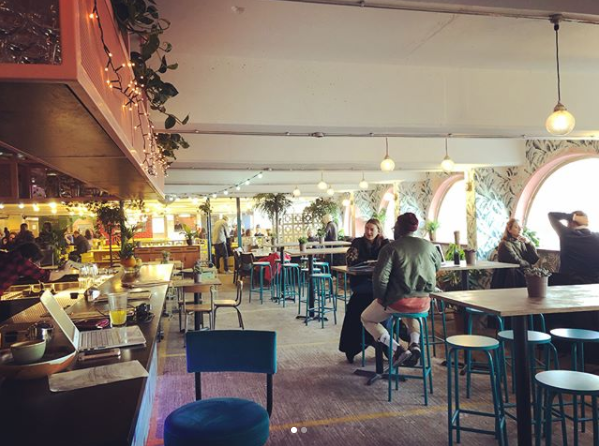 THE BEST NEW BARS IN PECKHAM
Sipping on a cocktail is one of our favourite things to do in Peckham. Which is why we are always on the hunt for the best new bars – this week we have rounded up our 3 favourite bars that we think you will love, and they are all in walking distance from Peckham Rye station!
Think bottomless brunch, disco balls, and quirky décor…
High quality cocktails, painted phoenixes and foliage in abundance
Maverick Drinks and Twist London teamed up in December 2017 to open a Christmas pop up bar in an old off license. This cool pop up was so popular that the guys have now turned it into a permanent bar in Peckham. The vibe? High quality cocktails in a friendly and non-pretentious environment - sounds perfect to us. The décor has crept on from their Twisted Christmas theme into a dim-lit, cosy space with colourful painted phoenixes, foxes and foliage in abundance.
As for the drinks menu, they say 'our cocktails focus on beautiful ingredients and careful balance' using a selection of small batch and handmade spirts from Maverick Drinks. You can also find cocktails with ingredients sourced locally like the 'Mizuki-Yuzuki' cocktail made with sake from local sake brewery Kanpai London
And, if you get peckish you can order yourself a Deliveroo or UberEats to enjoy alongside your quirky cocktails.
Tues-Thurs 6pm-11.30pm, Fri 5pm-12am, Sat 12pm-12.30am, Sun-Mon closed
56 Peckham Rye, London SE15 4JR
Think palm trees and disco balls
Near and Far bar seems to be the tropical den everyone is talking about, and we can see why. This new cocktail bar is being described as 'Peckham meets Palm springs' and it's this summer's hottest cocktail destination South of the river. The team behind The magic roundabout has transformed level 6 of Peckham levels in to a buzzy space adorned with retro furniture, palm prints, disco balls and a warm neon glow.
Near and Far bar subtly plays on the concept of import and export, a nod to the area's famous market trade. The cocktail menu continues this theme with detail on the origins, imports and exports of your particular drink by mixing locally-sourced ingredients from London's distillers and breweries with imports from around the world. Our favourite cocktail is the 'Fair Trade' (Vodka, Tia Maria, Homemade vegan nutella and coffee, £8), which we enjoyed sipping on whilst gazing out at the panoramic views of the London skyline.
Sun-Weds 12 pm - 11.30 pm Thurs-Sat 12 pm - 12.30 am
Level 6, Peckham Levels 95a Rye Lane, London, SE15 4TG
Two Hundred Rye Lane
Scrumptious cocktails and a cute Summer garden
Two Hundred Rye Lane, the sister bar of three eight four & seven at Brixton is slap bang in the middle of Rye Lane offering small plates and scrumptious cocktails. If you are well acquainted with this part of Rye Lane you may be slightly confused with the ever-changing face of this spot in Peckham – it was once Lerryn's café, then Corals and now Two Hundred Rye Lane, which we hope is a keeper because we love their cocktails (try the Raspberry & Thyme cooler) and their cute little summer garden out back.
The guys also serve bottomless brunch on the weekends, which is any brunch dish and two hours of prosecco for £25. The bar is open until 12.30am Fri & Sat so, you could make it a bit of an all dayer!
Mon-Wed 5pm-12am, Thurs-Fri 5pm-12.30am, Sat 10pm-12.30am, Sun 10am-11pm
200 Rye Ln, SE15 4NF